Oct 9, 2019
How Content Marketing Can Improve Considered Purchase Brand Conversions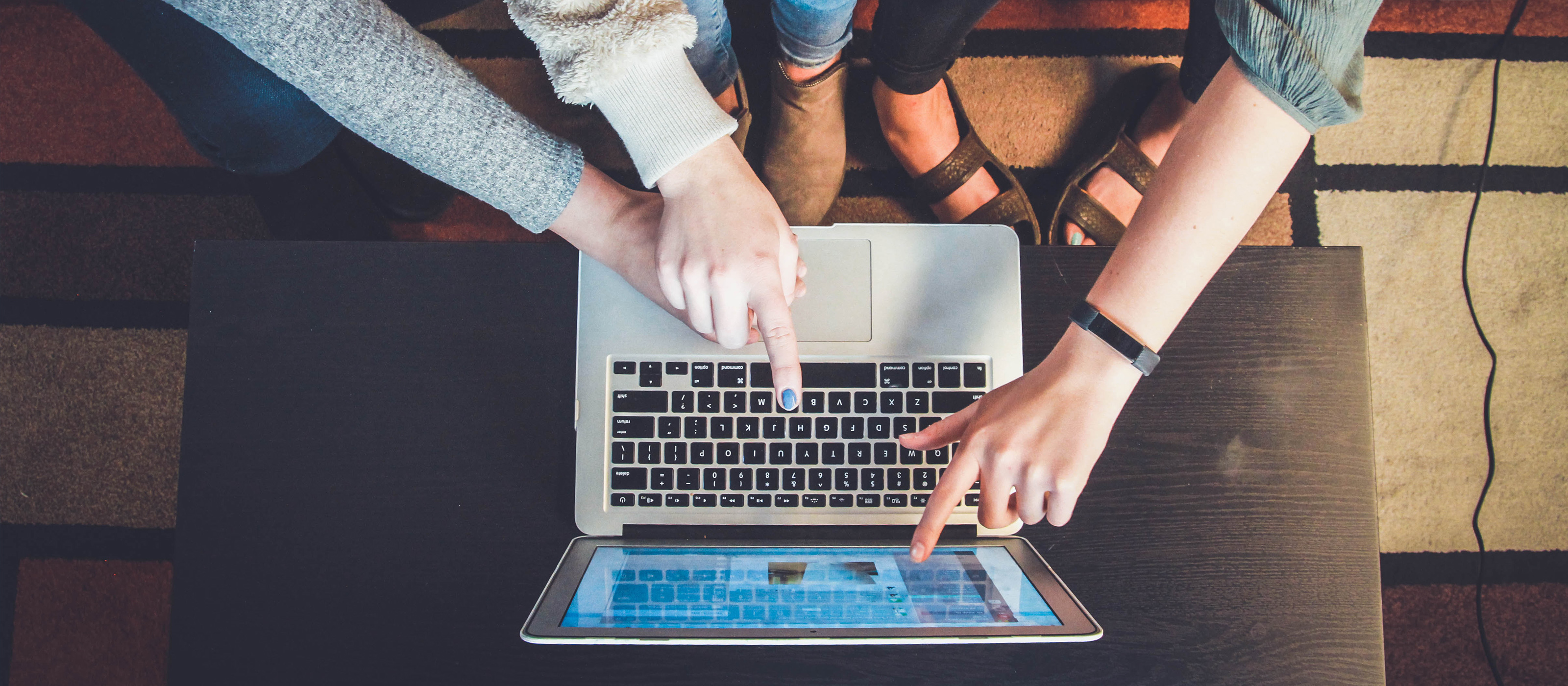 Even though considered purchases have a long sales cycle, there's a science to moving consumers down the sales funnel. This is done primarily through delivering consumers the right content at the right time. However, less than half of all marketers align their content with the buyer's journey.
This means that the average company simply produces content without regard for when and where it's being consumed and how it's actually helping people. A successful considered purchase brand should tailor content to each step that a shopper takes, from awareness right up until the time they decide to buy.
Move Through the Buyer's Journey—In Reverse
So why do so few marketers create and deliver content within the different contexts of the buyer's journey? Most likely, many feel they don't have the data or resources needed to create the right kind of content, nor do they have the right tools to deliver it to consumers when they need it.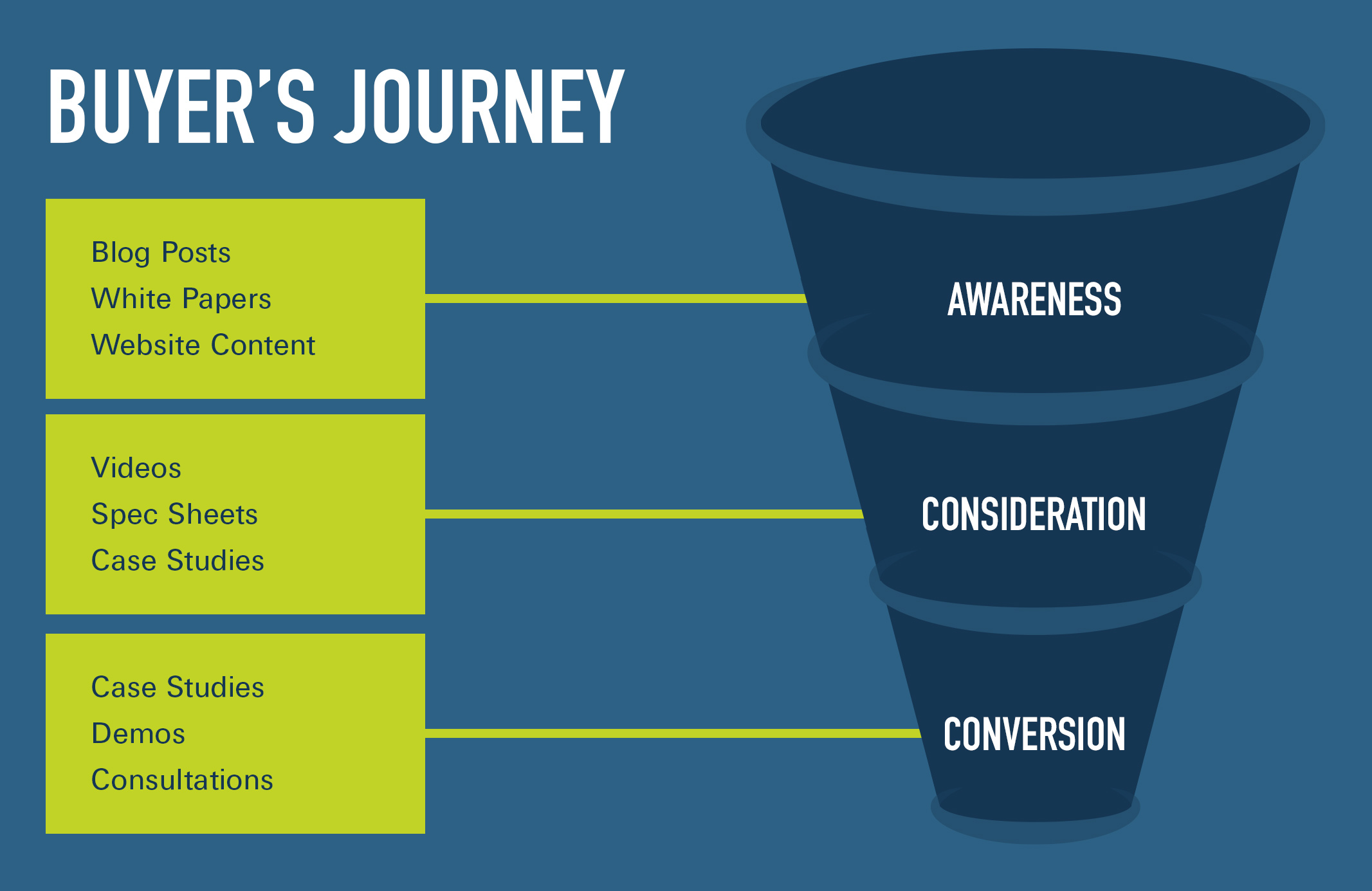 We recommend using a bottom-up approach to the sales funnel to collect data on what content consumers need to successfully make it through the buyer's journey. Then create a marketing automation strategy and use martech to efficiently deliver that content within the right context.
Here's what a bottom-up content marketing strategy for a considered purchase brand looks like:
Conversion
People in the funnel who are the closest to conversion know how to identify the problem they're trying to solve and are aware of the ways they could solve it. The content for this phase is about showcasing real-life examples of people or businesses you've helped. Testimonials and reviews are very helpful at this point. Case studies, in particular, are the most helpful lead conversion tools for B2B. It could also help to produce charts that favorably compare your products to those of competitors.
Those in this stage will naturally have the most data associated with them because they've been interacting with your site and content the longest. Creating a strategy for the rest of the funnel should be based on what moved the needle for these people to get them to the point of closing.
Consideration
Consideration-stage buyers are aware of the pain points they're experiencing, and they know you understand what they're going through. Look back to the decision-stage buyers for intel on the right kind of content to create, and be sure that it centers around the solutions you offer. Demonstration videos, spec sheets, and case studies allow people to see how your products and services helps people in real life. More importantly, it empowers them to start visualizing their lives with your product there to resolve their issues.
Awareness
At the top of the funnel, awareness-stage buyers are just becoming knowledgeable about their pain points, so you don't want to inundate them with the intricate details of your products and services. Instead, all you want to do is show potential customers that you understand the problems they're facing. You're not trying to solve the problem, you just want to get them thinking about potential solutions.
The behaviors and data of the buyers who've made it past this stage and are still in your funnel will give you intel on what kinds of blogs and white papers will be the most helpful. Ideally, when you provide this information to consumers, they'll sign up for your email list to learn more, consume more content, and provide you more data.
It must also be said that high-funnel content like this is an SEO goldmine. Nine out of ten shoppers who use search engines haven't made up their minds about what brand to patronize when they make their search. By having content available for these searchers, you'll get seen much more easily than those considered purchase companies that haven't made content marketing a priority. After all, content marketing generates three times as many leads as paid search marketing.
Become an Authority
Not only does a well-crafted, bottom-up content marketing strategy make your sales funnel more efficient, but it also has the significant residual benefit of branding you as a thought leader within your field. This added credibility can have tremendous implications for you as a marketer, and for your business as a whole.
Branding yourself as a credible resource for information promotes your company's visibility on social media and search engines, and it can lead to being featured at panels and conferences. The additional credibility of thought leadership amplifies the content in each stage of the funnel.
Produce Sales-Ready Leads
The strategies we've discussed will help you develop sales-ready leads that your sales team should be able to easily convert. That's what good content does—it eliminates skepticism from a consumer's mind and creates an educated buyer who's confident in their purchase.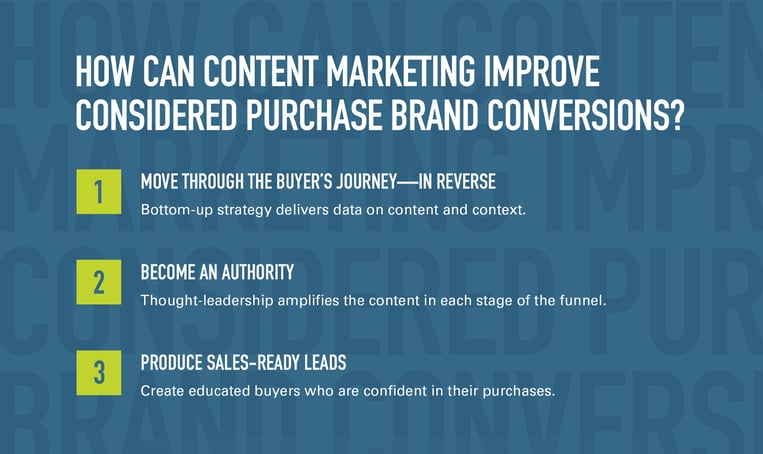 A mix of written, video, and visual content delivered at the right points in the buyer's journey will assure them they're on the right track toward resolving their pain points. With the help of your content, the consumer will decide on their own that your product is the best option for them. And because the consumer made their own educated choice instead of being pushed into it, they're more likely to be satisfied with their journey and be that much more likely to recommend your business to others.