Jan 12, 2021
How the New Google Analytics Will Change Marketing Insights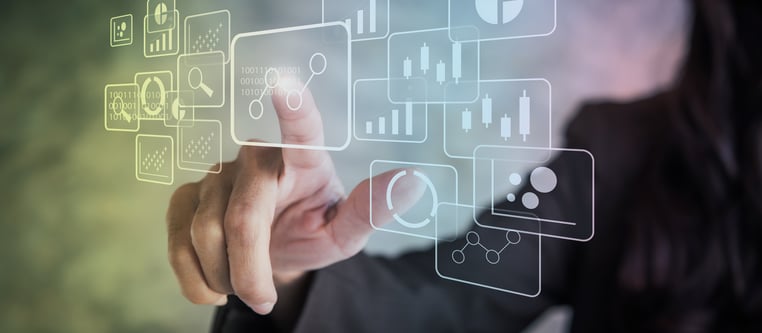 Google has released a new Google Analytics platform, Google Analytics 4. Beginning in October 2020, all new Google Analytics accounts and properties that are created will be in their new platform, Google Analytics 4 (GA4). This is replacing their previous platform, Universal Analytics (UA).
How is Google Analytics 4 different from Universal Analytics?
Machine Learning
Machine learning has always been an arm's-length away from marketers, and as time has passed, the conversation has gotten louder. But why is there such a focus on machine learning?
Solving for Privacy. Creating tools and processes that enable marketers to protect customers' information is a priority. "64% of executives say their companies are expanding their privacy and data-management controls" (Think With Google). Data regulations that protect customers' information cause gaps in the data marketers are able to analyze. As a result of increased regulations, marketers will have to rely more on machine learning to make conclusions and drive business decisions.
"As third-party cookies are phased out, Google anticipates that data sparsity will become the new norm. It will rely on machine learning to fill in the data gaps" (Search Engine Land).
Automation and new insights. Creating high-value customer experiences and optimizing your marketing can be done more effectively with automated machine learning. Over 50% of marketing executives surveyed by Forrester say their digital analytics solution lacks efficient automation capabilities.
Google understood the need for more machine learning and worked to integrate it more deeply into GA4. We can see it hard at work in these areas:
Monitoring traffic in real time. Now you can ask Google Analytics 4 questions about your "real-time" data and more closely analyze effects from day-of changes and campaigns.
Searching for instant answers. Get instant answers to questions and get specific details about your property, metric, time frame, or dimension.
Offering smart alerts. Be alerted when your website or app data sees a change in users or trends, and take instant actions.
Property settings
The new Google Analytics 4 allows for the tracking of either a website, an app, or both in the same property. This is a big step for cross-domain reporting and analysis.
Comparing Google Analytics 4 to Universal Analytics Property Settings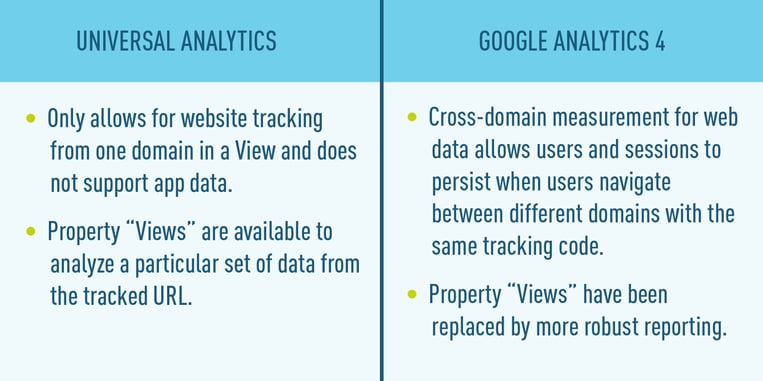 The Google Analytics 4 update really pulls together the full user journey for those who have different domains and use apps to support their users. However, the loss of property "Views" is a downside. To create an environment similar to the Reporting Views of a UA Property, you will need to create new "Audiences" or "Data Streams" within the GA4 Property.
Website event tracking
Event tracking is one of the biggest differences between the two Google Analytics platforms.
Universal Analytics hit types include page hits, event hits, ecommerce hits, and social interaction hits.
Google Analytics 4 measurement is event-based, with the idea that any interaction can be captured as an event. Meaning that typical UA hit types are translated to events in GA4.
As we know, UA events have a Category, Action, and Label, and an event is its own hit type, whereas GA4 events have no notion of those criteria. Reporting was also affected by this event change-up.
Reporting
Google Analytics 4 is aimed at providing marketers with a more complete view of how customers are engaging with the website across all channels.
Customized reports are available for whatever is most important to your website, business, or client.
Pre-defined reports are grouped according to your business lifecycle, user data, and events.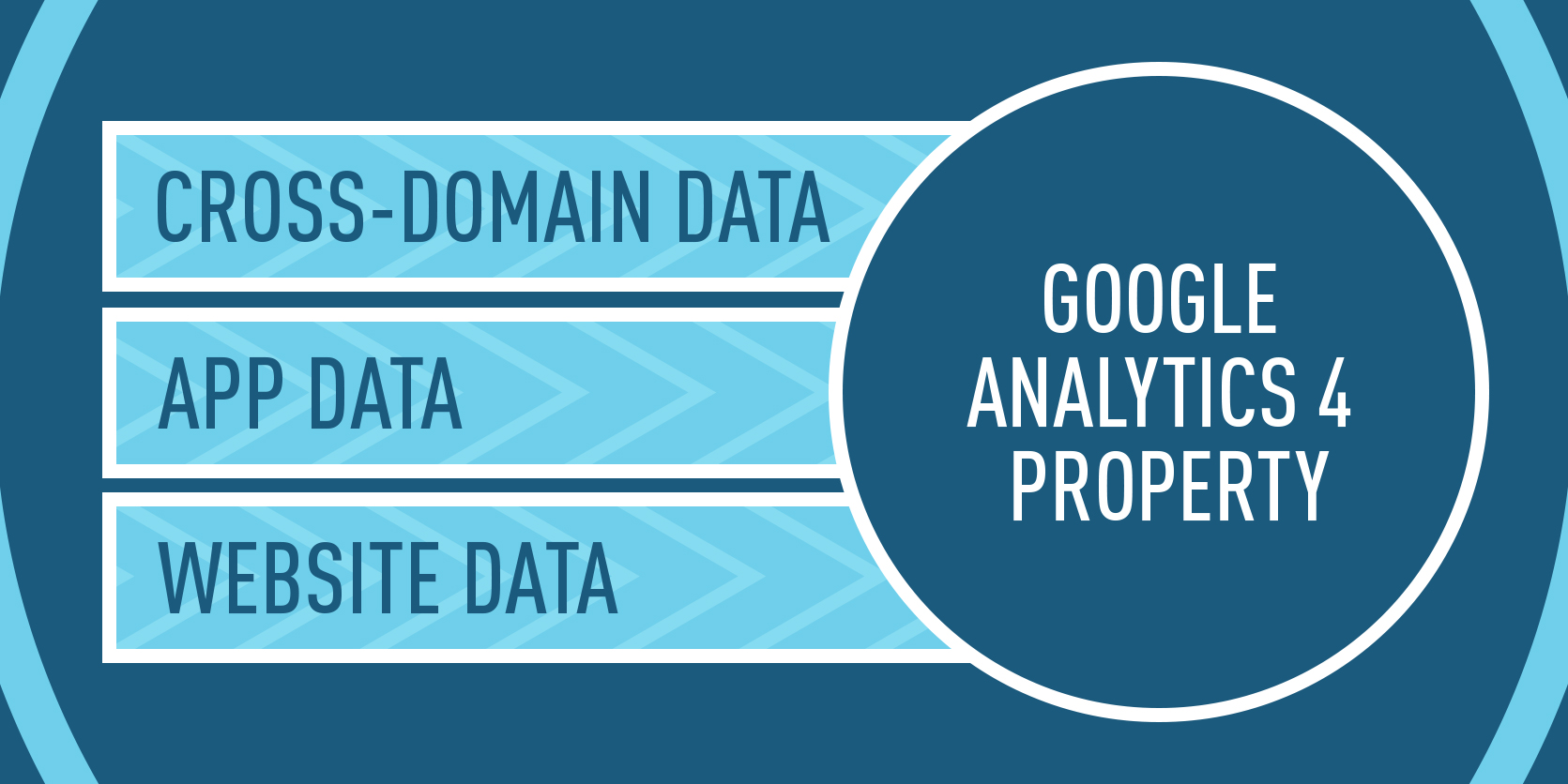 How do all of these changes affect your marketing?
The Google team didn't hold back on making changes to their platform when creating GA4. But the reason for all of these changes is to improve the data and analytics that marketers use. Let's review how these changes will affect the way you use GA data.
Data sources
In a ground-breaking development for Google Analytics, the ability to pull all of your data streams into one analytics property now exists. You can see how users are truly interacting with your online presence.
With Google Analytics 4, a user can:
Find your website through a paid ad when doing an online search.

Click on the ad to learn more.

Download your app to their mobile device as their preferred way to interact.

Come back to the app and purchase a few items.
And you can see all of these interactions without switching views to different data streams.
Focus on customer journey
Now that Google Analytics 4 pulls data from all of your business's web sources and puts them in one interface, you can see a more comprehensive customer lifecycle.
The whole GA4 Property is organized around making it easier for you to find marketing insights based on the customer journey you're most interested in.

Follow your customer as they first visit your site, and learn how they engage with your business, what monetary value they bring, and lastly, if you're able to retain them.



Google Ads
One of the most exciting updates—maybe just for someone who loves SEM—is the deeper integration with Google Search Ads.
You can now create remarketing audiences using the Google Analytics 4 audience builder and integrate these audiences with Google Ads to customize the campaign for people who you know have previously interacted with your online business.

To implement this new feature, you must activate Google Signals and enable ad personalization when you link the two accounts.
Event Tracking
Codeless event tracking makes it easier for marketers to track actions.
Aligning app and web events is a new feature that Universal Analytics did not allow for.

When integrating your app data streams into Google Analytics 4, ensure that your event data collection is consistent across app and web sources.

When switching your events over to GA4, you should try to map your UA events to their GA4 equivalents before uploading those events to your new platform.
Reporting and Insights
With all of these changes, reporting and insights are going to look different, too.
With more focus on your customer's journey, GA4 reporting models exactly that.

Setting up custom event parameters organizes your data in a way that makes the most sense for you.

Along with reporting updates, automated insights and predictive metrics are also available now because of GA4's machine learning.

Predictive metrics require a certain volume of data, but if you meet that, you can create audiences to target based on churn or conversion.
With the end-user in mind, Google has created a way to organize your data based on your customer's journey and use cross-domain analysis to pull better and more comprehensive marketing insights. Right now, our recommendation is to start getting familiar with the new Google Analytics interface while still relying on Universal Analytics for your website insights. Then, once you feel that your Google Analytics 4 Property is tracking your data accurately and is set up to best serve your business, you can fully make your transition.