Aug 30, 2022
How to Win the 2022 Holiday Retail Season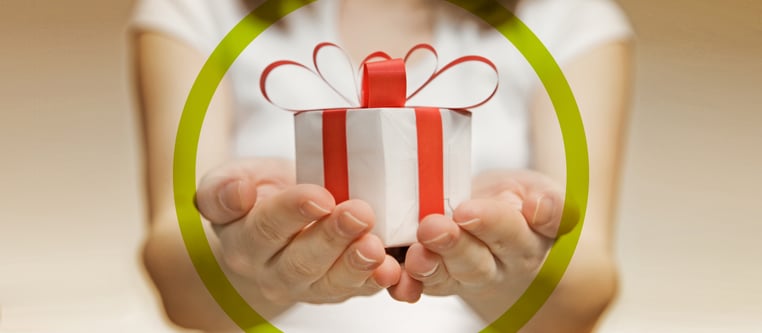 According to the National Retail Federation, American consumers spent $886.7 billion on holiday shopping in 2021, a 14% increase over 2020. With economic challenges dominating headlines in 2022, it's likely that number will decrease.
Fortunately, there are still ways to come out ahead in Q4. To deliver ROI in an increasingly complex retail landscape, understanding the current landscape is the first step.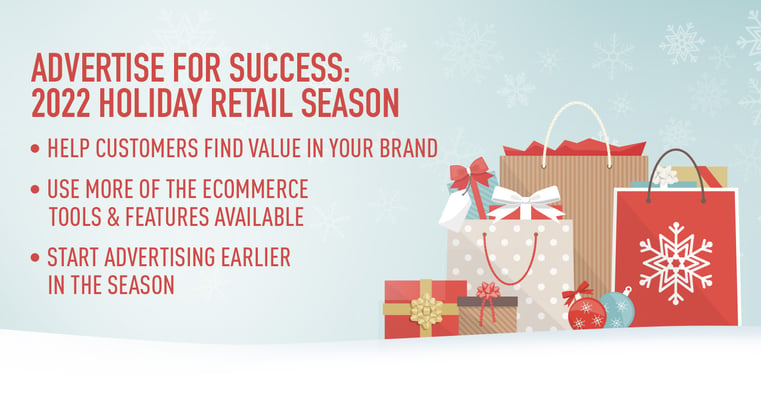 Challenges in the 2022 Holiday Retail Landscape
Even the best laid plans could not prepare businesses for what we've seen in the first half of 2022. Prices of goods and gasoline are rising, while wages struggle to keep up. Cultural shifts challenge notions of brand loyalty and traditional approaches to marketing.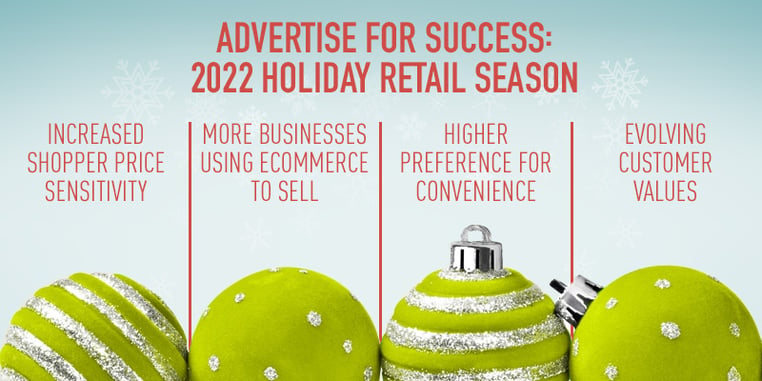 Here's a glimpse at how consumers are shopping in 2022:
Price sensitivity. With inflation crunching down on household budgets, bigger purchases are being delayed, and consumers are seeking the best value for their dollar.
Ecommerce competition. The pandemic forced businesses to adapt an ecommerce model almost overnight, meaning shoppers can get virtually anything online today. Expanded pickup and delivery services plus rising gas prices have only reinforced their preferences for buying online.
Convenience wins. Although pickup and delivery services have advanced, they're no match for global supply chain failures. In many cases, customers will eschew price discounts for shorter shipping times.
Evolving customer values. Along with getting the best deals, shoppers are choosing brands that make them feel good—with a focus on corporate responsibility, physical & mental well-being, and alignment with personal values. These "intangible" feelings and beliefs are just as important as price during the shopper consideration stage.
How Marketers and Advertisers Can Respond
Redefine Value to the Customer
Though the economic landscape seems grim, there's opportunity for marketers to encourage consumers to buy by appealing to more than just price.
Promote your private labels. A Jefferies study shows that 72% of respondents are already buying cheaper grocery items in response to inflation. This represents an opportunity to promote basic and economy brands to cost-conscious consumers.
Affordable luxuries. While impulse buying is less likely to happen, shoppers will still treat themselves in the form of more premium brands for their smaller, everyday essentials. Positioning products as "everyday luxuries" can help brands claim part of customers' tighter budgets.
Create experiences. These days, fostering brand loyalty means creating a relationship and experience that customers will want to return to. Design an in-store experience that will draw customers (Dick's Sporting Goods' House of Sport is a creative example). Leverage omnichannel strategies that seamlessly meld a customer's online and in-store shopping journeys together. Promote unique selling propositions that highlight your business, such as white-glove delivery and setup, free shipping, or customization/concierge services. Ask your employees for input regarding what they see elsewhere and how your customer experience can improve.
Embrace brand values. Research shows brand values can impact a customer's purchasing decision almost as much as price. The modern shopper will choose to support brands that share their beliefs and causes. Lean into and be bold with your brand messaging to appeal to like-minded customers.

Use Online Functionality
To stay ahead of a crowded online marketplace, the largest ecommerce companies in the world are constantly innovating new ways for businesses to reach their customers. Using these tools to their full potential can help give you a head start on the holiday season.
Meta's holiday toolkit. Use Facebook and Instagram to execute a holiday campaign that incorporates multiple phases and advertising platforms. This approach will have your plans in place well ahead of the holidays, making it easier for potential customers to find you.
Pinterest product tagging. Product tags convert regular images into buying opportunities to the tune of a 70% higher buying intent on tagged posts. Brands can not only tag items that they post about, but also open up shops directly on Pinterest, making it easy for consumers to buy right then and there.
Amazon-sponsored display ads. Modern product searches are more likely to begin on Amazon than on a search engine. Use Amazon's sponsored programmatic and display ads to capture your desired audience and showcase your product offerings in an ecommerce-friendly setting.
Get a Head Start
It's no cliché that the early bird gets the worm. Many of this year's economic challenges can be tempered with a little planning.
The holiday season starts early. People have learned that Black Friday doesn't necessarily include the best promotions of the year. Events like Amazon's Prime Day and other retailer holidays mean consumers are searching for deals year-round. According to Pinterest, holiday shoppers are planning for more celebrations and seasonal moments this year than ever before. This means advertisers will want to activate on multiple holidays, not just Christmas. Start promoting holiday deals early to capture their attention (and your market share).
Educate customers. At this point, supply chain delays are almost to be expected, but mismatched expectations can still hurt brand reputation. Encourage shopping earlier in the season to avoid delays and launch promotions ahead of your competitors. During the ordering process, stay transparent and communicate updates promptly and regularly to reassure customers and manage expectations.
Just as brands and retailers have adjusted to a post-pandemic world, an economic downturn disrupts the marketplace. Counter decreased consumer spending with steeper discounts and a stronger emphasis on value brands. Take full advantage of the tools at your disposal and use them regularly. Start enacting your holiday marketing plan now to claim customer attention. With the right tools and strategy, businesses can weather any retail landscape and come out on top this holiday season.
Want to stay up-to-date on the latest holiday marketing trends? Sign up for our monthly newsletter.