Feb 25, 2021
Retail Co-branding: Are You Getting the Most From Your Partnerships?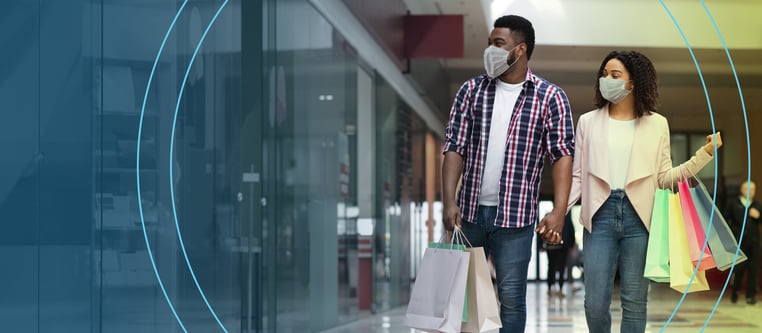 A relationship with a retail partner is only as good as the retailer's understanding of your brand. If a retailer isn't correctly conveying the vision of your brand, it can create consumer confusion and negatively impact your brand. That's why it's so important to maximize the potential of your retail partnerships.
Why is co-branding with your retailers important?
In co-branding, both sides of the partnership benefit from the relationship. Bringing value to your retail partners will encourage those partners to treat your products as a priority. A successful co-branding relationship is one in which everyone wins. When brands and retailers work together, they're able to leverage one another's strengths in clear communications with consumers that motivate action.
Keeping Brand Image Consistent. Providing information about your brand image and explaining why it's necessary will encourage retail partners to follow your rules. Consistent presentation across marketing touchpoints and channels (including those of your retailers) increases revenue by 33 percent.
Asset Utilization. Provide your retail partners with marketing assets, and you'll both benefit. The retailer will have an easier time selling your merchandise if they use materials consistent with your voice, message, and branding. In fact, the use of a signature brand color in a promotion increases brand recognition by 80 percent.
Building Stronger Relationships. A 2018 Partnerize study showed that more than 20 percent of revenue comes exclusively from marketing relationships. Furthermore, 84 percent of retailers provide money to marketers to help cover expenses. The right relationship results in better promotion at a lower cost.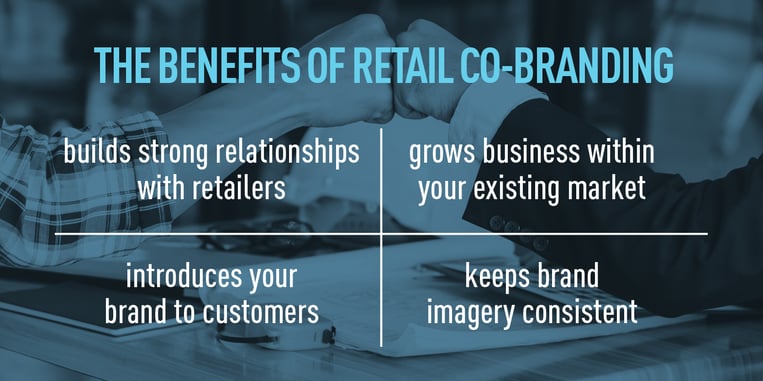 Differences between co-branding and co-marketing
While co-branding and co-marketing sound interchangeable, they're actually two different concepts. You can use either one, or both, to help your brand stand out to retailers and customers.
Business Scope.

Co-branding focuses on using your existing market to support the growth of both your business and your retail partners. Instead of basing itself in retail marketing, co-marketing involves working with similar brands in different industries. Co-branding helps you have deeper penetration in your current market; co-marketing expands beyond your current market, moving your brand into new territory.

Place of Business.

The retail store is the focus of co-branding, allowing your business to gain exposure while the retailer benefits from the use of brand assets. In co-marketing, the partnership can take any form—from a new or exclusive product to a combined store presence like Starbucks and Target.

Marketing Costs.

While retail stores benefit from co-branding, they also rely on the brand to provide them assets. While this pays off for the brand in increased retail sales, marketing costs are not as equitably split as in co-marketing, where both sides share costs so they can reach their shared target audience.
Why you need to embrace co-branding
If you're not co-branding with your retailers, your product is just another item on their shelves. Co-branding is the difference between a shopper walking past your product and giving it a second look.
Introduce Your Brand to Customers.

Today's customer places a higher premium on transparency and company values than ever before. Don't put these factors in the hands of an overwhelmed retailer. Get in front of your story and show the world who you are—on your terms.

An Increasingly Crowded Space.

As of 2018, a third of CEOs were looking to prioritize relationships such as co-branding partnerships. If you don't make deals with retailers in your marketplace, someone else will.

Co-Branding Success Stories.

Best Buy, once thought to be on the verge of closure, has revived its prospects thanks to store-within-a-store showcases for major players like Samsung, Microsoft, and Apple. These tech giants have benefited by having their products displayed their way, and Best Buy has seen its revenues increase in each of the last five years.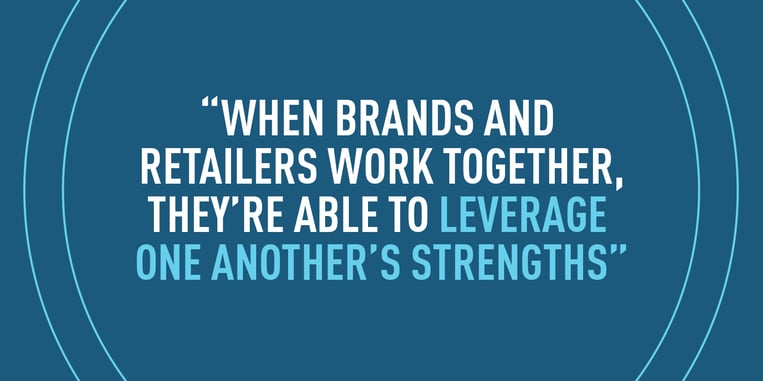 How an Agency Can Help
Building co-branding partnerships isn't easy. An agency can help ensure you maintain those relationships. Here's what to look for in an agency that specializes in co-branding:
Creative Management.

Your agency should help brands represent themselves creatively while staying true to their message.
Customer-Based Alignment. The messaging for both you and your partners must be properly balanced with customer pain points. The right agency will craft your messages so they land the right way.

Streamlined Communication.

A good agency helps facilitate communication between you and your retail partners so that nothing falls through the cracks or gets lost in translation.

Co-Branding Education.

Look for experience in co-branding and co-marketing. Don't let an inexperienced agency learn the ropes at your expense. Instead, work with someone who can show you exactly what a successful co-branding relationship looks like.
Working with the right agency means worrying less about all of these factors and focusing more on making your partnerships the best they can possibly be. Consider an agency like Icon—with more than 20 years of experience helping marketers optimize their co-branding relationships. When done correctly, co-branding and co-marketing can bring your business to an entirely new level, gaining new customers while still keeping your brand intact.