Aug 10, 2020
What Is Snackable Content And Why Is It Important?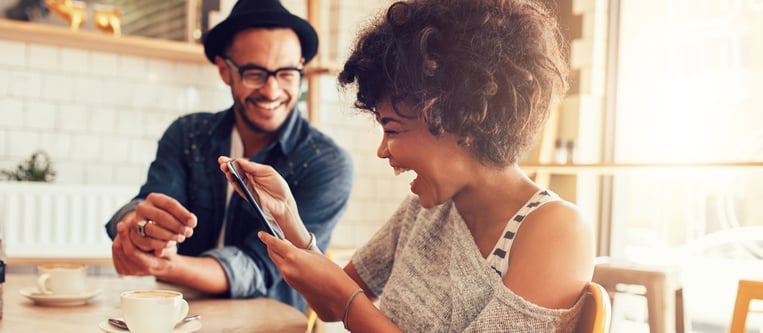 Snackable content is EVERYWHERE, and chances are you've already consumed it today. Snackable content is becoming an increasingly popular marketing tactic, characterized by its straightforward and visually engaging material. It captures viewers' attention without losing their interest by communicating an overarching campaign message in short, easily digestible pieces of content. Snackable content works even better than long-form content when it comes to the objectives of offering immediate information, boosting social sharing and attracting new leads.
WHY IT'S IMPORTANT
PREFERENCES ARE CHANGING
Long paragraphs and blocks of text no longer hold the same success in online marketing as they used to, as more audiences prefer formats that are aesthetically pleasing, quick to consume, and universally compatible with mobile devices.
A 2019 survey conducted by Demand Gen Report suggests that 90% of consumers prefer shorter content. This is likely a result of an overload of information being consistently pushed onto society through news stations, social media, mobile applications, etc. In addition, the shift towards visual content is quite apparent now that consumers are opting for photo- or video-centric mobile applications (i.e. Instagram and TikTok).
All things considered, long-form content is still important to your SEO as Google's RankBrain algorithm rewards larger content with good search positioning. Long-form content tends to be more comprehensive and for that reason, Google identifies you as the "expert" on the subject matter. It's also a great resource for leads who engage in your snackable content but want to explore deeper on the particular solution/subject.
INCREASE ENGAGEMENT
When snackable content is used correctly, it has the capability to drive user engagement. In fact, social media posts that include visual components produce 650% higher engagement than text-only posts. Increased engagement on any platform allows for a further reach and the opportunity to increase interest in your brand identity.
Your snackable content is much more effective when it's mobile optimized and easy to share because, when it comes to the United States, 63% of Google's visits are via mobile device. Providing your mobile audience the same experience as your online audience will extend your brand's reach even further, since this allows equal opportunity to share your content on their personal accounts.

BOOST YOUR INBOUND STRATEGY
Inbound marketing is a business strategy that attracts customers by creating valuable content and experiences tailored to them. The main objectives of snackable content parallel the purposes of inbound — attract, engage, and delight qualified leads. You want to attract the right clients with content applicable to the phase of the customer journey they're in (both snackable content and long-form) to provide value and establish your brand as a reliable expert. Engaging with your audience by offering content that speaks to their pain points makes them more inclined to partner/buy from you. And you delight your customers by supporting them through their partnership or purchase. Snackable content is a great way to accomplish all three objectives by providing content that's quick to consume and easy to digest when your readers need it.
CONNECT WITH QUALIFIED LEADS
We've all heard the saying "a picture's worth a thousand words," but it rings especially true when you incorporate attention-grabbing, visual, and emotional components into snackable content. Snackable content reveals your brand's personality as your posts consistently utilize more visuals and short-form content. Most importantly, these pieces should all align with the look, tone, and feel of your brand. Making sure your content is consistent with your brand's voice helps to build trust with your audience. And, those who are engaging with your content are oftentimes qualified leads.
THE APPROACH TO SNACKABLE CONTENT
1. SET EXPECTATIONS
With snackable content, there's no beating around the bush. Your headlines should indicate what information your reader is going to consume. The viewer should also be able to identify what brought them to the content in the first place.
2. GET TO THE POINT
You need to be able to answer the "why" as soon as possible. Think about the value your snackable content is delivering as it should enable users to view the content in its entirety, no matter how much time they have.

3. BREAK IT UP
There are many ways to make your content digestible and attractive besides solely breaking it into smaller paragraphs. It helps to strategically place visuals such as video, infographics and GIFs to make your snackable content scannable.
4. Optimize for Mobile
In order to keep snackable content as effective as possible, make sure it is always available to share — whether that be on a mobile device or desktop. Social sharing continues to increase just as mobile usage increases. According to Statista, in a 2019 internet minute, global online users sent over 41.6 million mobile messages and 2.1 million snaps, exemplifying digital users' constant need to communicate and share.
5. IMPROVE, REFINE, AND MEASURE
Snackable content should be a nice change from your traditional content — it keeps things interesting for your audience while also strengthening your inbound marketing strategy. Take note of what is well-received by your audience and what is not. Continue to build off your insights and trends within your industry to increase engagement and ultimately expand your client base.
EXAMPLES OF CONTENT TO INCLUDE

SHORT-FORM VIDEOS


INFOGRAPHICS




Takeaway GRAPHICS: Bulleted Lists



TL;DR GRAPHICS




GIFs

The Better Together Sale: Now through Monday, 4/20 at 9am ET/ 6am PT. Up to 60% off shoes for everyone. Save now on styles to show off later from Sam Edelman, Vince Camuto, Cole Haan and more. Exclusions apply. https://t.co/GgoGpBLWiK pic.twitter.com/kCJEicRtOp

— Nordstrom (@Nordstrom) April 18, 2020
Our exposure to information is higher than ever; however, snackable content is an effective way to cut through the noise by captivating leads through short yet valuable content. It helps connect you with your target market and strengthens your inbound marketing strategy — all while expanding your reach. Focus on creating engaging content with supporting visuals and think about the value it will add to your core audience. Take note of what's getting the highest engagement and continue to build off of it for a successful snackable content strategy.