Feb 28, 2023
Why Reviews Should Be a Part of Your Amazon Strategy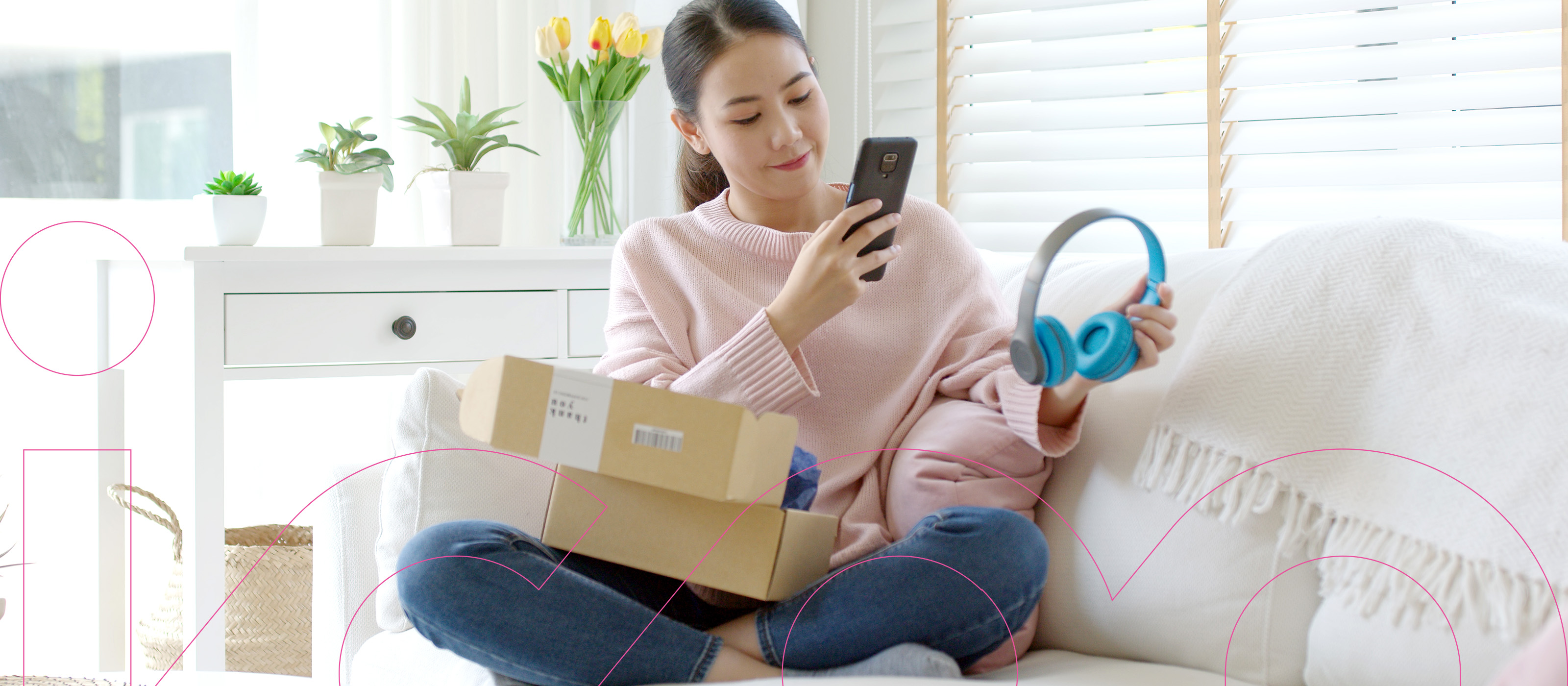 Your team has done everything correctly to create an effective Amazon advertising plan—from leveraging audience insights to optimizing your storefront—but for all your sky-high clickthrough rates, you have few sales to show for it. What's going on?
A crucial consideration is often missed when investing in Amazon advertising. While part of the funnel that generally happens after the sale, it is integral to getting a sale as well: positive product reviews.
Why Do Reviews Matter?

Research shows that over 93% of consumers read customer reviews before buying online. In a world where consumers can't see or try a product before they buy it, and where every brand has the singular goal of winning them over, reviews from other customers are considered the most credible source of information.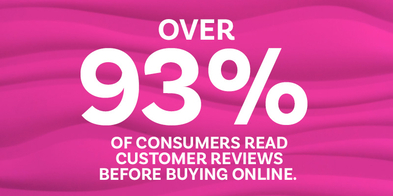 At Icon, we put a great deal of research into mapping out your target consumer's entire shopping journey, even if the goal is to cinch the sales or conversions at the end. That's because while our clients, like you, have invested heavily into developing good products, strong branding, and a robust demand generation pipeline, that quality and effort doesn't always translate directly to selling online. By considering the purchase journey, we identify gaps and opportunities—such as how to obtain positive customer reviews.
The Chicken and the Egg: Getting Reviews on Amazon

Traditionally, reviews are provided by customers after a purchase—but how can a new brand or product on Amazon compete if it hasn't yet sold anything?
On other online storefronts like Shopify and Square, reviews can be pulled from your website or Google reviews. But on Amazon, reviews are restricted to those who've purchased that product on Amazon. Even for brands that successfully sell (and get reviews) on other channels, rebuilding that strong reputation on Amazon can be a challenge.
The good news: Amazon recognizes that reviews are critical to the consumer's evaluation process. That's why they created Amazon Vine, an Amazon-specific influencer marketing program whereby everyday Amazon shoppers (no social media clout required) can receive free products in exchange for an honest, high-quality, and detailed review.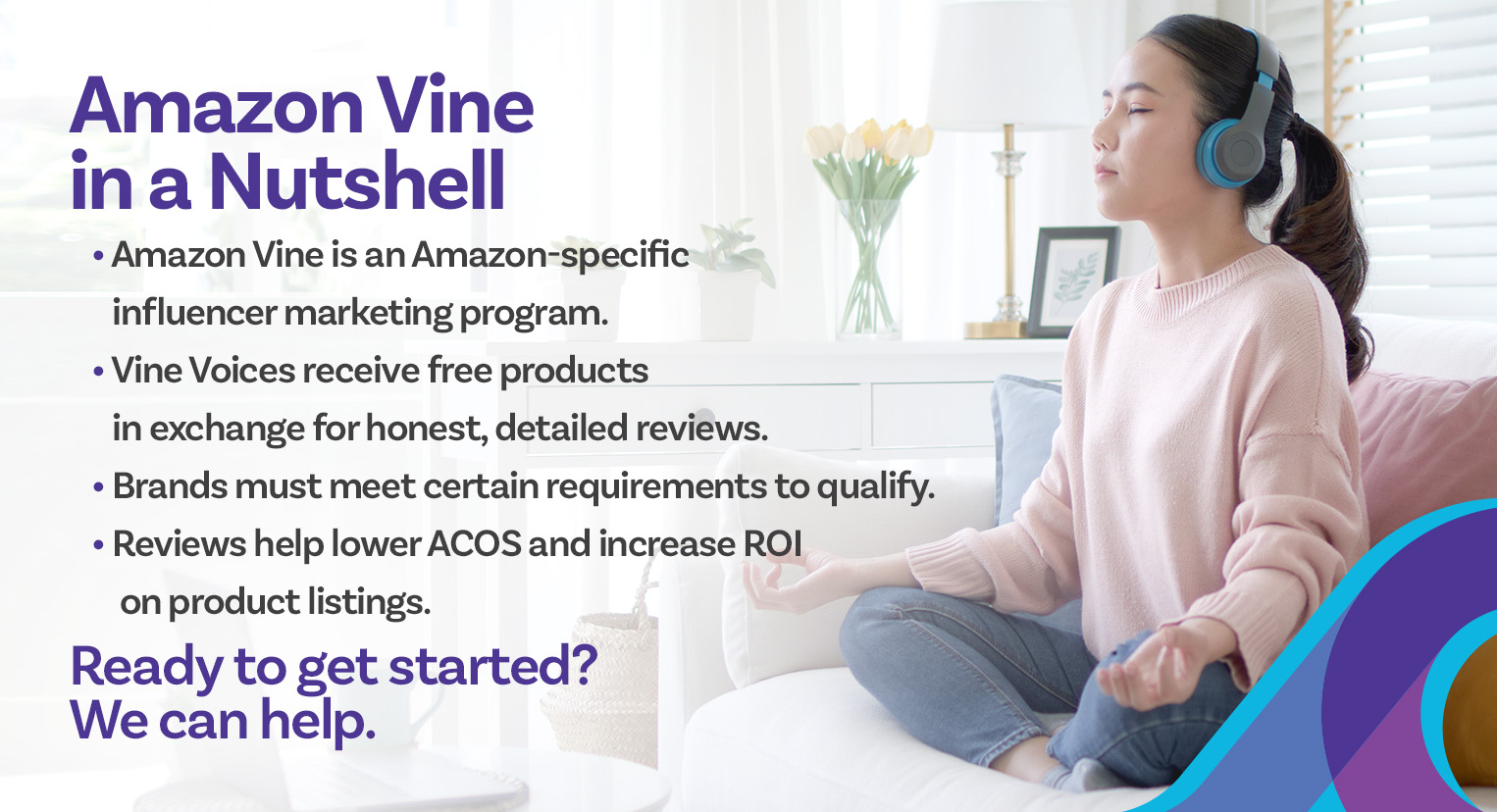 How Amazon Vine Works


Amazon shoppers with a track record of providing helpful and accurate reviews (based on feedback from other reviewers) are invited to participate as a "Vine Voice." They choose which free items they'd like from a listing of Vine-eligible products and are encouraged to leave honest reviews on each one (positive or negative). To stay in the program, they're expected to share honest and unbiased reviews regularly.
How Brands Qualify for Amazon Vine


To get a good product review, a brand must first have a good product. Amazon prevents counterfeits by ensuring participating brands fulfill a few requirements, such as registering their brand with the Amazon Brand Registry, having eligible Fulfillment by Amazon (FBA) offers, and being a Professional Selling Partner.
As part of our Amazon services, we ensure brands meet these guidelines at a minimum. But if you're an Amazon seller and aren't yet working with us, you can see the .
Additionally, the products listed as part of this program must have a product detail page with images and a description, fewer than 30 reviews per product, and inventory in "new" condition available to purchase through FBA. Certain exclusions apply, depending on the type of product or if the product page isn't set up correctly.
Other Considerations


Since Amazon Vine can produce a mix of positive and negative reviews, brands should also be prepared to make immediate adjustments to their products and/or product listings to demonstrate their responsiveness to consumer complaints and to build customer loyalty.
Ultimately, this program is ideal for brands that are ready to launch their products on Amazon. This means that brands should be considering this program before investing heavily in ad buys to prevent the scenario we started with: ads that drive traffic but don't convert. To minimize ACOS and maximize the ROI on investments you've made earlier in your demand generation pipeline, generating positive reviews should be a part of your initial planning.
Final Thoughts


Having customer reviews—even if they're not five stars—is a necessity for brands competing on the Amazon marketplace. While numerous strategies exist for building a base of customer reviews, the Amazon Vine program is the most direct method for building positive word-of-mouth advertising.
Getting started is easy—we're happy to chat about how to launch or improve your Amazon sales.