Aug 17, 2021
Social Media Goes Ecommerce—Updates That Bring Real ROI to Your Social Content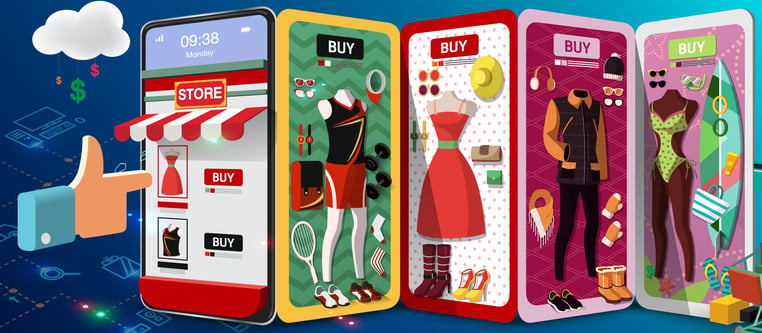 Social media is making it easier than ever before for a consumer to complete their purchase journey without ever leaving an app or desktop platform. Brands are taking advantage of marketing funnel updates on social media and are tapping into social media shopping behavior. Those shopping habits aren't going anywhere post-pandemic; in a survey conducted by payments.com, 78% of people said all or some of their retail shopping habits during the pandemic will continue post-pandemic (Source: Centro).
The boom in ecommerce isn't anticipated to decrease either—as of 2021, the global social ecommerce market is worth $89.4 billion, and by 2027 it is estimated to reach $604.5 billion.
The key to success for marketers, brands, and retailers in the years—even months—ahead will be implementing shopping features via social media channels. If you're new to the shoppable social media scene, read more here on how ecommerce erupted in 2021. In this article, we will go deeper into the various platforms' ecommerce features that you can begin to implement today.
Facebook and Instagram shoppable content
Facebook and Instagram aren't strangers to the ecommerce space. Both platforms drive impact in terms of organic ecommerce content and advertising to consumers. A 2019 Facebook study revealed that 54% of respondents purchased items in the moment or sometime after seeing a product or service on Instagram. Consumers are motivated to shop online from the convenience of their mobile or desktop device now more than ever before. Marketers should be leveraging shoppable content because it expands sales opportunities beyond a web page or storefront and monetizes social content for a higher social media ROI.

A few key features on both platforms now make the shopping process seamless:
Shoppable Posts: includes product tags or a shopping bag icon on static images. When the tag is clicked, consumers are taken to an in-app shop page, which gives a consumer the opportunity to explore product offerings conveniently in one place (Source: Hubspot).
Stores: a collection of shoppable posts.
In-App Checkout: Instagram recently added this feature that allows consumers to view products and purchase products from the Instagram app.
Pinterest
This visual discovery engine has made major updates over the last year to dip into the ecommerce space. The platform adapted to allow businesses to reach their customers via profile storefronts, and Pinterest continues to evolve its shoppable features. Below are a few that launched on the platform in 2021:
Catalogs: makes pins shoppable and creates a storefront on a business's profile.
Shop: a place to feature product groups on a profile. The user can then browse shoppable products within featured product groups, which gives the user the experience of "window" shopping.
Product Pins: includes real-time pricing, availability, and where to purchase the product.
Shopping List: automatically saves a user's product pins in one place and pushes notifications on price drops of product pins they have saved.
Lens: a visual search engine that works with the platform's shoppable pins. Users take or upload a photo of an item, and Pinterest shows them shoppable pins of similar-looking products.

tik tok
Since the pandemic, TikTok has become an increasingly popular app not only among teens and adults, but also among advertisers. The platform has expanded its ad capabilities in 2020 and recently partnered with Shopify to also extend their shoppable content capabilities. Merchants on Shopify can create, run, and optimize TikTok ad campaigns within their Shopify dashboard. They create TikTok videos that become in-feed shoppable video ads.

The platform is still testing shoppable capabilities, but a shopping button is in the works that will allow Shopify merchants to link their Shopify storefront to their TikTok videos. As the platform's shopping capabilities continue to evolve, there will likely be a surge which we anticipate will bring an even broader audience and more marketers to the platform.
youtube
YouTube is also experimenting with shoppable content. The most recent testing allows certain creators to tag products that appear in their video; viewers can then click the shopping bag icon in the corner of their screens to browse and buy these tagged products. While users and companies are predetermined at this time, meaning you can't opt into the beta test, this will likely open up as the holidays approach. We also anticipate the video-sharing platform will follow suit with other platforms, such as TikTok, by including shoppable buttons within videos.
snapchat
Recently Snapchat announced key updates to the platform's shoppable capabilities for marketers and users, which include:
Screenshop: allows users to scan and shop their friends' outfits. Snapchatters can also upload a saved photo and shop similar items in-app. Users can unlock shopping recommendations from hundreds of brands.
AR Filters: augmented reality (AR) filters bring products directly to customers through Snapchat's "Lenses" feature. "Customers who visit a business's Snapchat page can try on any product in their catalog as a Lens, then make a purchase in Snapchat. Through a new API tool, Snapchat also said it will match Lenses to available product inventory: if a new product is added, or one runs out of stock, Lenses will appear or disappear on Snapchat accordingly." (Source: Modern Retail)
Shoppable Product Catalogs: businesses can set up shoppable product catalogs to connect to Lenses, which allows customers to place orders without leaving the Snapchat app. (Source: Modern Retail)

Ecommerce will continuously evolve as consumer behavior changes in the coming year. Marketers should implement and test shoppable social content now, so by the 2021 holiday season, strategy is optimized to succeed and reach social shoppers and bring in additional revenue.