Nov 15, 2021
Social Media Trends To Prepare For in 2022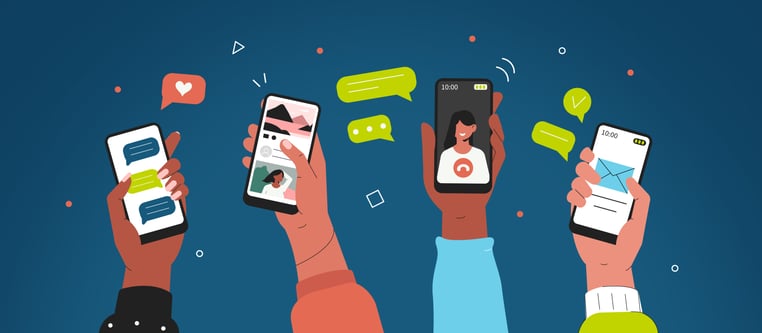 Marketing is a constantly evolving medium, and social media marketing is no different. The coming year will see further expansion into mediums that aren't currently being used to their fullest potential. Here are some 2022 trends you can expect to see.
Social Media Will Continue To Emerge as a Shopping Platform in 2022

Social media is more than posting pictures and getting likes—it's a legitimate ecommerce powerhouse. Two-thirds of consumers currently use social media as part of their buying process. As social media commerce becomes more streamlined and commonplace, it will become even more popular among shoppers.
A Growing Consumer Base. The number of consumers who have made purchases via social commerce increased by more than 25 percent between 2019 and 2020. The total number of social commerce buyers in the U.S. is expected to eclipse 100 million by 2023.
Enhanced Technological Capabilities. The leading social media platforms continue to add features to make social shopping easier for both brands and consumers. Shoppable posts and virtual storefronts within a company's social media profile are now standard on most major platforms.
Demographic Considerations. While 77 percent of millennials and Gen Z consumers are already shopping on social media, only 23 percent of boomers have shopped on social platforms. Marketers should focus on the tech-savvy younger audience, particularly with the platforms that resonate with members of those demographics, such as TikTok and Instagram.

Short-Form Video Content Will Continue To Be King/Queen
The idea of short-form video is hardly a new concept; Vine popularized the idea nearly a decade ago. But short-form content has taken over the world in recent years, and that's not going to change anytime soon.
Competition. TikTok remains the short-form video leader, but it's now got competition. Instagram's Reels is the company's attempt to siphon off users from TikTok, and YouTube is attempting to do the same with its Shorts feature.
Continued Popularity. It's estimated that 82 percent of online content will be in video form by 2022. The trend for these videos? Going shorter. The average consumer's attention span is just eight seconds—the perfect amount of time for short-form videos to make an impact.
An Emphasis on Authenticity. Brands will use short-form video marketing in the form of user-generated content, as well as in-house materials, to bolster their public stature. Integrity and authenticity are at the core of these marketing efforts. As Forbes says, "Make content that is uber-shareable so that when your shoppers want to talk about your products with their networks, it's very easy for them to do so. That also means content that shoppers can engage with after they buy."

Facebook Isn't Going Anywhere, Despite Negative Press
Facebook is not only old news in the marketing circles, but the platform only seems to generate publicity when it's mentioned in a negative context. In spite of the lack of buzz around Facebook, it's a reliable and very widely used social media platform, and it needs to be part of your 2022 marketing planning.
Still on Top. Facebook remains the most popular social media site, with 2.74 billion active users each month and 1.845 billion daily users.
Significant User Engagement. The average Facebook user spends 38 minutes on the platform each day. That's a larger number than the daily average use of Instagram, Snapchat, or YouTube.
Demographic Surprises. Though much is made of Facebook's popularity among boomers—Facebook's fastest-growing demographic—24 percent of Facebook's audience consists of individuals ages 18 to 24. Facebook is also the most popular social media platform in rural areas.

Augmented Reality (AR) and Virtual Reality (VR) Will Continue To Rise in 2022
AR and VR aren't just for video games anymore. Marketers have embraced augmented reality in recent years, with clothing retailers allowing consumers to virtually try on clothes via mobile apps and furniture sellers showing shoppers how new items will look in their homes. Social media is the next frontier for this emerging technology.
Early Adoption in Social Media. Top platforms have incorporated AR and VR in unique ways. Snapchat allows users to try on makeup, while Pinterest lets users virtually try on clothes. Meanwhile, Instagram has launched its AR offerings by allowing users to create their own filters.
Room for Growth. AR and VR are becoming more commonplace thanks to the increased reliability and strength of mobile networks. Searches for Facebook on topics related to AR and VR increased by 44 percent last year. Additionally, global spending on AR and VR are projected to increase sixfold in the next two years.
The Future Is Here. According to Facebook, 75 percent of businesses will be using AR and VR within two years. Social media will surely be among these businesses.
As always, change is in the air when it comes to marketing. The trends we've discussed aren't entirely new, but they'll have an increased level of importance to the average consumer as 2022 unfolds. Get on top of what's on the horizon so you can start your 2022 planning and be prepared to emerge victorious in the face of competition on social media.