Nov 13, 2020
Social Media Platforms to Watch in 2021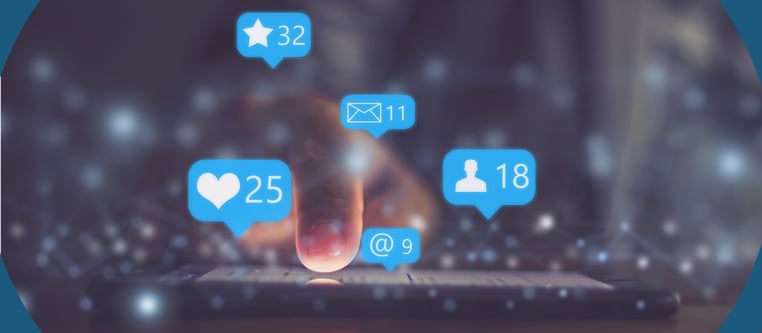 Social media is changing because the world is changing. Platforms are releasing updates to fit user experience as we all shift further into a digital world for connection and shopper experience. Today nearly 43% of people report spending an increased amount of time on social media since the onset of COVID-19, and we anticipate this number to rise. But how do you keep up and which platforms should you keep an eye on? We've rounded up social media platforms to watch and how each will impact marketing efforts in 2021.
TikTok

The video sharing platform continues to increase in popularity in the U.S. TikTok is used to create short music, lip-sync, dance, comedy, and informational videos of 3 to 15 seconds, and short looping videos of 3 to 60 seconds.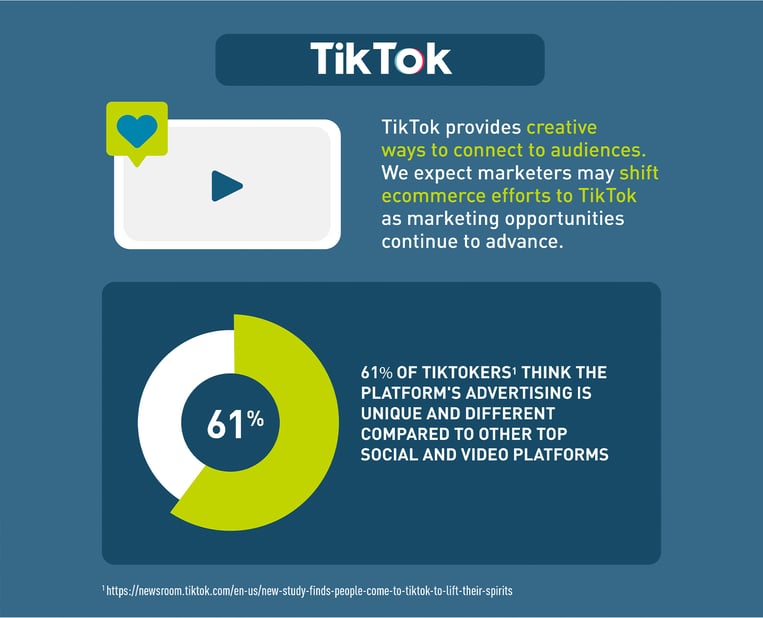 TikTok recently released a study on TikTokers' ad experience and how the app is leading the way in marketing authenticity. In it, 61% of TikTokers think the platform's advertising is unique and different compared to other top social and video platforms. The study also reported 52% of TikTokers say they discover new products from ads. TikTok influencers and cross platform sharing is also causing engagement on the app to skyrocket. Engagement rates per post are soaring and are the highest compared to Instagram and Twitter.
Marketers have the opportunity to tap into this engagement on the snackable content giant. TikTok has expanded their Marketing Partner Program, giving a level-up for advertisers in campaign management, creative development, and branded effects. With high engagement rates and increased interest, we foresee marketing opportunities growing on the app especially in the e-commerce space.
Instagram

Known for its aesthetically pleasing content created by the app's users, Instagram has expanded the user experience recently with Instagram Stories and Reels. Although both features mimic competitors such as TikTok and Snapchat, Instagram has seen an increased rise in Story engagement: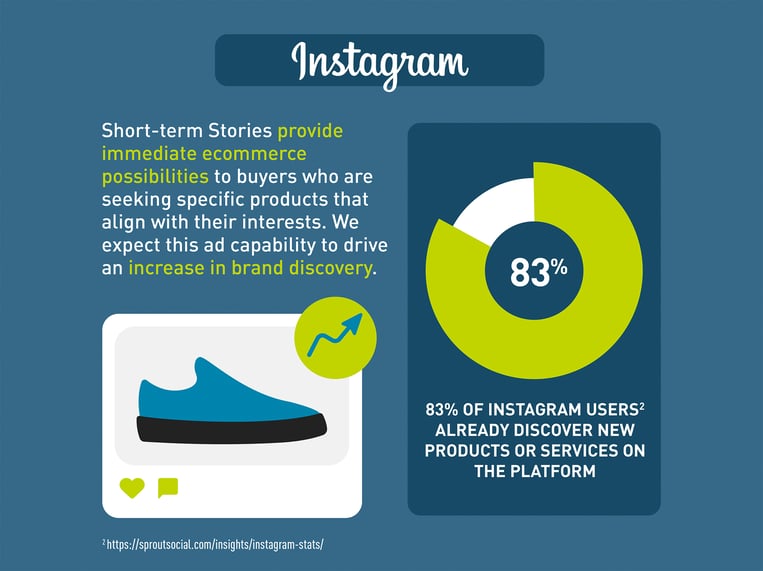 The increase in Story engagement means incredible opportunities for marketers to reach the Instagram audience beyond in-feed posts. One in three Instagram posts that contained the hashtag #ad were Story posts. Instagram Stories' "swipe up" feature on eligible Instagram accounts is an area we predict shopper experience will transform and may even bring purchasing capabilities within the story vs. navigating to another webpage. Additionally, Instagram's Creator Accounts, which are available to influencers and business accounts, could mean we see a change in how sponsored content is displayed and analyzed.
Most recently, Instagram announced new advertising options for the holiday season which feature Instagram ad product tagging. We expect this ad capability to drive an increase in brand discovery as 83% of Instagram users already discover new products or services on the platform. As Instagram shifts toward the e-commerce world, shopping capabilities via the app and brand engagement levels will increase in the coming months.
Facebook
Facebook's fastest growing age group is now 65+, which means advertisers may need to re-think their target audience in 2021. Beyond age demographics, the platform's ad capabilities are expanding as consumers' shopping experience has shifted since the pandemic. Ads are more dynamic and direct as consumers become more comfortable with social media shopping.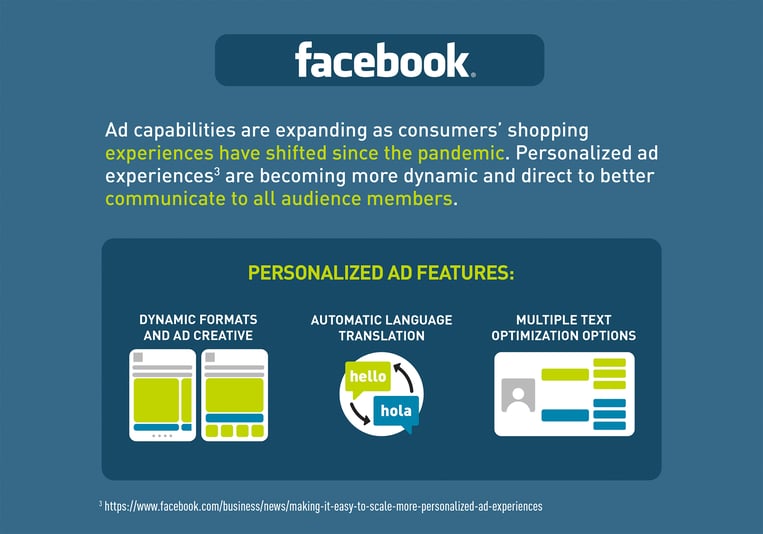 Facebook's Personalized Ad experiences are a product of this shift. The ad format delivers products dynamically to customers, changing formats and calls-to-action based on who is being served. The platform will likely continue to enhance Personalized Ad experiences in the next year.
LinkedIn
LinkedIn has expanded from more than just a networking site for professionals to one of the top social media platforms in 2020. As the second most used platform for B2B marketers, LinkedIn boasts ad conversion rates 3X higher than other major ad platforms, including Google Ads.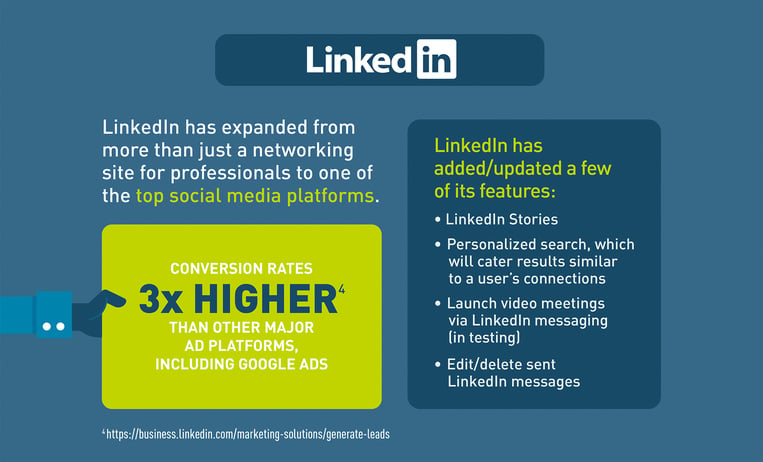 LinkedIn's recent facelift added/updated a few of its features:
LinkedIn Stories
Personalized search which will cater results similar to a user's connections
Launch video meetings via LinkedIn messaging (in testing)
Edit/delete sent LinkedIn messages
Most notably, LinkedIn joining the "story" trend will provide new opportunities for B2B marketers to engage with their audience.
Pinterest
Pinterest has flourished this year as people are staying at home and tackling home improvement to-do lists, DIY projects, and cooking more. 89% of pinners on Pinterest are there for inspiration in their path to purchase.
Pinterest has also driven serious revenue for consumer brands vs. other social media networks. In a study by Neustar, retail brands saw a 2x higher return on ad spend on Pinterest than on other social media platforms and a 1.3x higher return than traditional search. The increase in return is no surprise as 47% of people log onto Pinterest to shop. Pinterest has also leaned into the e-commerce trend growing among other social media channels by adding new tools such as a Merchant Storefront Profile to support retailers driving sales through the end of the 2020 holiday season.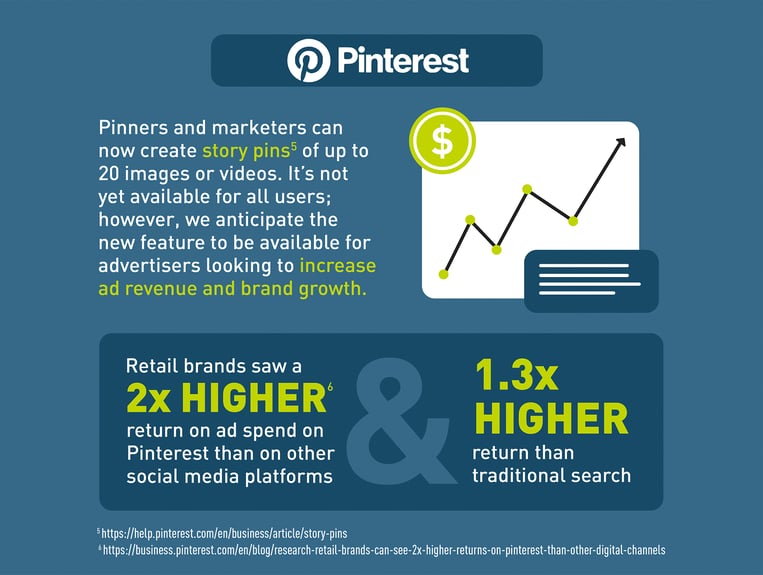 In addition to brands seeing an increase in ad return, marketers have an opportunity to engage with their audience in a new way: Story Pins. Pinners and marketers can now create story pins of up to 20 images or videos. Story pins are not yet available for all users; however, we anticipate the new feature to be available for advertisers looking to increase ad revenue and brand growth.
Snapchat
Compared to other social media channels, Snapchat appeals to a younger demographic. According to Statista, Snapchat was found to be the most important social media channel to 41% of teens.
When it comes to eCommerce, Snapchat holds the opportunity for marketers to target a younger demographic. Snapchat users are 60% more likely to make impulse purchases. More specifically marketers are likely to drive awareness on the channel, 55% of Gen Z users have ad recall after watching 0 to 2 seconds of that ad – double the ad recall of individuals ages 40 and over. In 2021, we expect the platform's shopper experience to expand alongside its competitor, Instagram. We also expect a facelift for the app's mobile experience to increase user engagement.


Across all social channels in the coming year, ad experiences will evolve with shopper behavior as the pandemic continues, and dwell time will continue to rise as users seek entertaining, informational, and inspirational snackable content. Stories will be key in growing user engagement, which places a focus on social strategy and how marketers will reach their audience. TikTok, Instagram, Facebook, LinkedIn, Pinterest, and Snapchat will be platforms to watch as they have proven increased user engagement and are leaders in ad growth and ROI.