Feb 17, 2021
How Social Channels are Going Full Funnel with Shoppable Content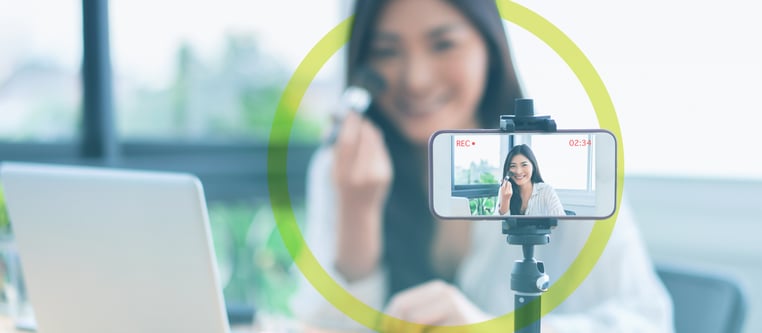 While digital marketers have long understood the power of social media to influence consumers during their purchase journey, connecting that influence to the bottom line has been more elusive. But the game has changed.
We've been talking about consumer behavior changes for a while now, and it's clear that social media platforms are taking notice of the same things we're seeing. Platforms like Facebook, Instagram, Pinterest, TikTok, and YouTube are providing marketers with full-funnel capabilities in the form of shoppable experiences for consumers, directly from their social media feeds. Here's how you can get in on the action:
Facebook and Instagram
A Stackla study of social commerce showed that Instagram and Facebook are the two most preferred social media platforms for shoppable content. These two platforms have the user base, the demonstrated staying power, and the infrastructure to help any business embrace shoppable content. Now, they possess the capability to get consumers through the entire funnel within their mobile app.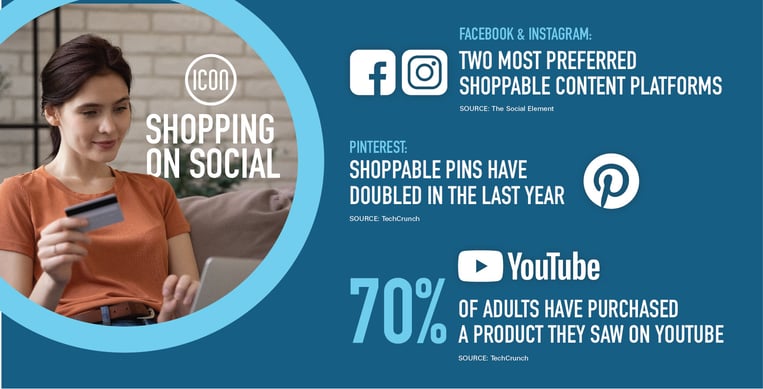 Pinterest
No longer a platform for just DIYers and aspiring home chefs, Pinterest has become a full-fledged marketing platform that appeals to all demographics. With 40 percent of dads using Pinterest and 34 percent of individuals aged 18 to 29 on the platform, Pinterest is a place where marketers can easily reach and convert their target audiences.
Shoppable Pins. Pins are now equipped with "Shop Similar" buttons that allow users to identify in-stock inventory for items they want. The number of shoppable Pins has more than doubled in the past year.
Shop Tabs. Business profiles include a Shop tab that leads viewers into a virtual storefront. Clicking on a Pin in this shop will lead directly to the checkout page on the retailer's website.
Enhanced Customer Experience Tools. 97 percent of Pinterest product searches are unbranded, giving all retailers a chance to be noticed. Additionally, a blue checkmark next to a brand name indicates a Pinterest-verified company, giving consumers peace of mind as they shop.
Youtube and tiktok
73 percent of adults use YouTube, and more than 70 percent of those people have bought a product that they saw on YouTube. Not to be outdone, engagement on influencer posts on TikTok blows away any other platform. The individuals on these platforms are paying attention—and now it's time for those platforms to let their viewers start buying.
YouTube Shoppable Ads. A new ad function turns an advertiser's call-to-action button into a list of available products, which then link directly to the product page on the company's website. Early users of this functionality have experienced increased ROI, higher conversion rates, and lower costs.
TikTok Shoppable Influencer Ads. TikTok is closing the gap between influencers and the products they sell by allowing viewers to buy products directly from video ads featuring influencers. Like Instagram, consumers can purchase products right from the app, without having to go to the company's site.
Live Video Shopping. Both YouTube and TikTok are exploring ways to turn live streaming into shoppable experiences by linking products featured in streams to product pages. This could have significant implications for all of the social media platforms we've discussed, as well as streaming platforms like Twitch.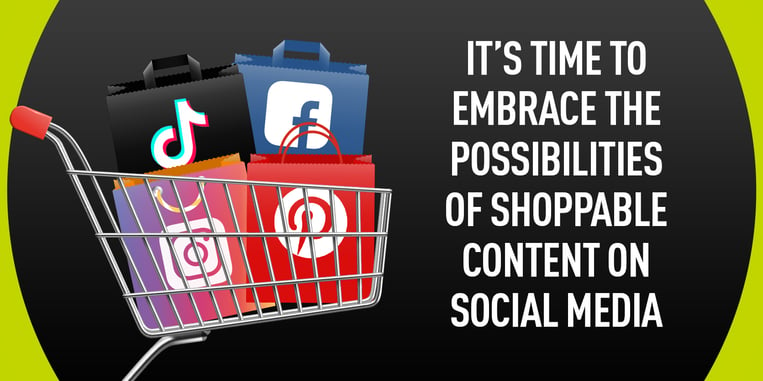 Social media is turning into a self-contained full-funnel powerhouse, and if you haven't been taking social media and social shopping seriously, it's time to get on board. Consumer buying behavior will continue to evolve to prefer this type of interactivity on social media. And since marketing will always be about meeting customers where they are, it's time to embrace the possibilities of shoppable content on social media.